Complex of S. Maria in Gradi
Complex of S. Maria del Paradiso
Complex of S. Carlo
Two Etruscan sarcaphagi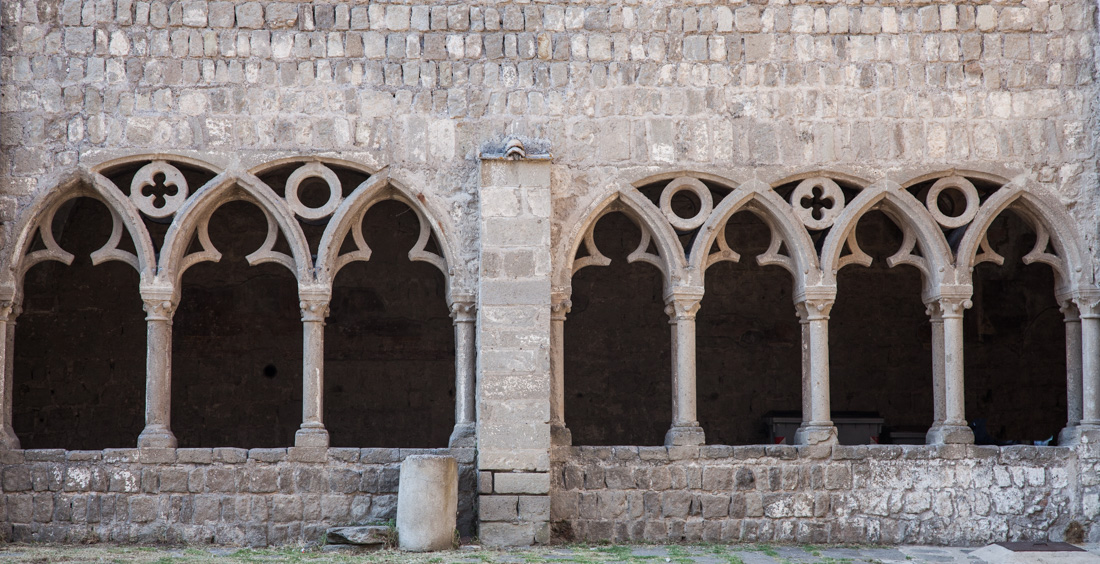 It includes the medieval  complexes of Santa Maria in Gradi, Santa Maria del Paradiso and San Carlo acquired by the University between the eighties and the nineties.
Santa Maria in Gradi, seat of the Rectorate is an ancient Dominican convent  which was built in Gothic style in the half of  the thirteenth century, outside the city walls, in the vicinity of Porta Romana, at the height of cultural expansion  and urban development of  medieval Viterbo. Although the majestic complex was altered several times during the centuries, the articulated relationship between church, chapter house, dormitories, refectory, cloister, cemetery, hospital and defensive walls are still evident.  Only the first cloister has kept its original medieval form. The church, reconstructed by the architect Nicola Salvi in the first half of the eighteenth century is presently closed, in attendance of restoration. In 1874, the entire complex of Santa Maria in Gradi was designated a detention centre until 1993 when it  was  acquired by the University.
Also the complex of Santa Maria del Paradiso, goes back to the first half of the thirteenth century and was remodeled several times over the centuries. Its medieval aspect is still to be seen in the cloister where, in particular, the polifore are similar to those of the lodge of the Papal Palace in Viterbo.
The complex of San  Carlo was built on the site of the church of San Nicola, under the jurisduction of the Benedictine abbey of Farfa. In 1619, the church, together with the orchard and the yard of the adjoining house, passed into the possession of the Confraternity of San Carlo, which trasformed it into a hospice for invalids and  the infirm.
The monumental complexes are open during the opening hours of the University: from Monday to Friday  from 9 am to 7 pm.
GENERAL INFORMATION
Scientific Director: Prof.ssa Maria Raffaella Menna
Tel: 0761 357685
E-mail: mrmenna@unitus.it
The complexes can be visited in the opening hours of the University, from Monday to Friday (hours 9:00-19:00)
Images:1-4  Santa Maria in Gradi; 5 Santa Maria del Paradiso; 6 San Carlo
Photos by Gaetano Alfano